SmarTracks Timing Gates
The SmarTracks Timing Gates are magnetic gates which allow for precise time measurement up to the millisecond. In comparison to other time measurement systems such as infrared sensors, the SmarTracks Timing Gates are precise, robust, durable and exceptionally easy to set up. In combination with our SmarTracks Diagnostics System or with the free SmarTracks Athlete App, the Timing Gates allow for a precise data analysis of performance tests, whether on the running track or on the sports field.
One Timing Gate, Two Types
Timing Gates In-Ground
With our Timing Gates In-Ground, we have developed the ideal solution to ensure a long-lasting and versatile possibility for running analysis. Due to the cooperation with our partner Polytan, a world-leading manufacturer of synthetic sports surfaces, you can find the Timing Gates In-Ground in running tracks worldwide.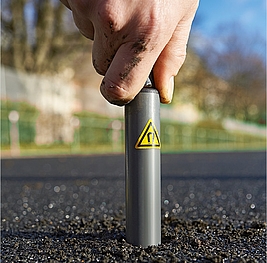 The Timing Gates In-Ground are located below the surface of a track and are therefore not visible to athletes or coaches. The Timing Gates can be easily integrated into new or existing running tracks since the individual magnetic gates are simply let into the running track at defined intervals, after which the boreholes created in this process are then properly resealed. After integration, the Timing Gates In-Ground are entirely maintenance-free.
Solid integration into a track offers certain advantages, such as 100% protection against vandalism and extreme weather conditions. In contrast to other measuring systems, assembly and disassembly are completely eliminated and measurements can be started within a very short time with the help of our tried-and-tested SmarTracks Diagnostics Software or our Android App, SmarTracks Athlete.
In addition, the Timing Gates In-Ground can also be combined with our Timing Gates Mobile, which makes it possible to display certain specific distances in a higher resolution and thus to create an even better data output.
Timing Gates Mobile
Because of the robust and uncomplicated design, the Timing Gates Mobile are easy to set up. The gates do not contain sensitive electronics and are tolerant against humidity and dirt.

Our Timing Gates Mobile are extremely fast to set up and can be used individually. They allow, among other things, the measurement of agility tests or sport-specific sprint intervals. The gates can be placed everywhere, on the running track or on the sports field.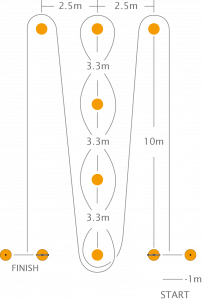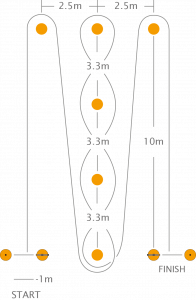 Example of a Timing Gates Mobile setup for the Illinois Agility Test
The Advantages at a Glance
Exact time registration
Resistant against vandalism and extreme weather conditions
Easy setup without electronic wiring
Usable everywhere, at any time and in any weather
Do you want to know more about the SmarTracks Timing Gates? Contact us.